Hello Friends,
This week we will be taking a look at the benefits of Frankincense Essential Oil. It's beautifying, aromatic, and health-promoting* properties are extremely powerful and can easily improve an everyday lifestyle. For anyone seeking a helpful essential oil tip, always remember, if in doubt, use Frankincense.
Renowned as one of the most prized and precious essential oils, Frankincense has extraordinary health benefits.* In addition to its notoriety in the New Testament, the Babylonians and Assyrians would burn Frankincense in religious ceremonies and the ancient Egyptians used Frankincense resin for everything from perfume to salves for soothing skin.

This centuries-old knowledge contributes to the modern uses of Frankincense today. It's soothing and beautifying properties are used to rejuvenate skin and help reduce the appearance of imperfections when applied topically. As the king of oils, Frankincense is known to support healthy cellular function when used internally.* When inhaled or diffused, Frankincense promotes feelings of peace, relaxation, satisfaction, and overall wellness.
I carry several dōTERRA Proprietary Blends wherever I go including one of my own blends.  It is a blend of CPTG® dōTERRA Essential Oils that includes Frankincense.  The soothing properties and warm fragrance help to relieve pain and muscle aches.  I keep my special blend in a 10ml roller-ball and use it for topical pain relief.  Frankincense not only promotes feelings of peace and relaxation, it enhances a sense of overall wellness.  I love this ancient essential oil.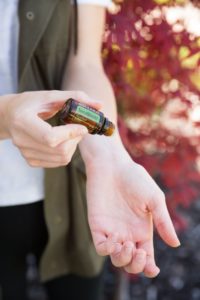 For more information on dōTERRA Frankincense, visit here.
*These statements have not been evaluated by the Food and Drug Administration. This product is not intended to diagnose, treat, cure, or prevent disease.