Good Afternoon!
This week we're highlighting an essential oil that is often passed over but has powerful benefits and a lovely aroma: Patchouli oil. Many people do not know it, but Patchouli oil has significant benefits for skin, oral health, the emotions, and more.  My husband, who has had major problems with skin cancer, rubs a few drops of patchouli with FCO in the palm of his hands and gently applies it to his face.  He loves the warm, spicy scent and often diffuses patchouli oil in his mini desktop diffuser.  It happens to be his favorite oil and I can never keep enough on hand.  It has helped calm irritated areas of his face as well as give him a sense of balance during his work day.  This is truly an essential oil in our home!
What Is Patchouli Essential Oil Good For?
Have you ever heard of Patchouli essential oil? Have you tried it? While this may seem like an obscure oil to some, it's a treasure in the world of essential oils. A member of the mint family, patchouli has a rich, musky-sweet fragrance that is known to instill feelings of balance. The beloved aroma of patchouli has commonly been used in the perfume industry to add fragrance to products like laundry detergents and air fresheners. If you've never tried Patchouli oil, keep reading to see some of the best ways to use it and why you'll want to add it to your oil collection.
Using Patchouli oil for skin
Because of its gentle cleansing properties, many people use Patchouli oil for skin. Using Patchouli essential oil topically can help promote a smooth, glowing complexion; not to mention, it's also useful for reducing the appearance of blemishes, skin imperfections, and wrinkles.
How do you use Patchouli oil for skin?
Add one to two drops to your moisturizer to help problem skin areas.
Apply directly to reduce the appearance of blemishes or skin imperfections.
Using Patchouli oil for fresh breath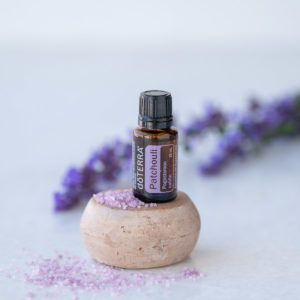 As part of the mint family, Patchouli essential oil can help give your breath a refreshed, clean feeling. Want to take advantage of this and enjoy a clean mouth and fresh breath? Try making this DIY essential oil mouth rinse:
Patchouli and Peppermint Mouth Rinse
Ingredients:
½ teaspoon baking soda
2 tablespoons water
2 drops Peppermint oil
1 drop Patchouli oil
Instructions:
Combine the baking soda and water in a small cup.
Add the essential oils and mix well.
Swish mixture around in the mouth for one minute before spitting into the sink.
Using Patchouli oil to manage emotions
Rich in the chemical component patchoulol, Patchouli essential oil is known to have a grounding and harmonizing effect on the emotions. People love the uniquely sweet and musky scent of Patchouli oil and find it useful for balancing emotions amid feelings of stress or turmoil.
How do you use Patchouli oil to manage emotions?

After a long day of work, apply one to two drops of Patchouli oil to the neck or temples.
Diffuse Patchouli oil when you want to relieve feelings of tension.
Combine Patchouli with Vetiver oil and apply to the bottoms of the feet to help calm emotions.
Are you ready to see what Patchouli oil can do for you? Don't wait another day to try it! Patchouli Oil Uses and Benefits
Many blessings,
*These statements have not been evaluated by the Food and Drug Administration. This product is not intended to diagnose, treat, cure, or prevent disease.